Everyone once in a while, a personality or character comes along that really stands out from the crowd, someone whose story must be told. In the annals of Albany Law history, many bigger-than-life characters have graduated as rugby club alumni.
One such Albany Law rugby grad embraced a line of life-threatening, public service work and made it his mission to put away bad guys; by drawing the line and going after some of the most dangerous domestic and international criminals in the United States. Probably because few people willingly make themselves and their family open targets for organized crime and killers, in return for a working lawyer's paycheck, a modest pension and a pat on the back upon retirement. Tom is one of those few.
This is the story of Thomas M. O'Connell, a full-time Assistant United States Attorney in Las Vegas and San Jose for at least the last 20 years. He's had a remarkable career full of heroic exploits, with conviction after conviction of some of America's worst criminals.
I met Tom the first week of my first year at ALS in the fall of 1977; of course it was a rugby meeting in one of the seminar rooms. He, Chuck Cernansky and Don Armstrong were big personalities in the room that day; they helped give me the confidence I'd fit in with their crew, albeit with a "little" hazing. Tom was a college wrestler, boxer who'd sparred with Gerry Cooney and bar fighter. He graduated magna cum laude from the University of Massachusetts. 35 years after meeting him, Tom's Albany Law exploits provided the basis for the fictional character "Tacks" in the parody "My Time with Jersey (2013)." He was not your average law student.
Tom graduated Albany Law in January of 1980 and moved on. Shortly after, he became a member of the Suffolk County (NY) Police Department. Tom had over 100 arrests, earning him 5 commendations in 2 years. If he had remained a policeman on Long Island, he'd be enjoying a yearly pension north of $ 100,000.00. His AUSA retirement falls far short of that. From the P.D. he moved to the Suffolk County D.A.'s office and worked as an ADA for five years. Tom then gravitated to Las Vegas, joined the U.S. Attorney's office and the rest is history.
Tom started a joint program with the ATF, Las Vegas Metro and the Clark County (Nevada) D.A.'s office, targeting violent recidivist criminals with federal crimes. For that effort, Tom was awarded the U.S. Dept. of Justice Director's Award in 2001. The recipient of the "Director's Award" is chosen by the Director of the Executive Office of U.S. Attorneys in D.C. The EOUSA oversees all 97 U.S. Attorney's offices.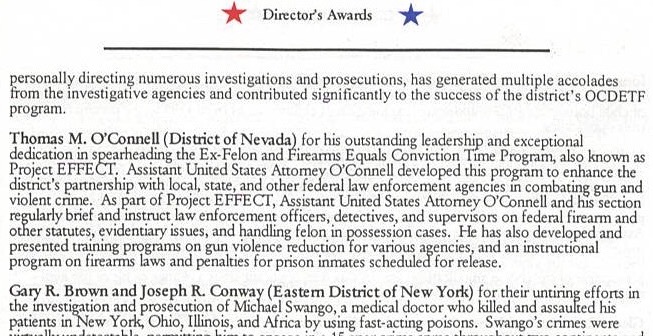 In one of Tom's last cases, "Operation Garlic Press," Tom and a team of ATF agents, Deputy DAs and local police conducted a storefront sting operation targeting Northern California gang members. It resulted in one of the largest takedowns in California history, wherein 500 law enforcement officers arrested 118 defendants. Of 46 charged in federal court, 45 were convicted and sentenced to over 4,000 months (one remains a fugitive). For these outstanding achievements, Tom and the prosecution team were nominated by Melinda Haag, the United States Attorney in the Northern District of California, for California Lawyer of the Year, and for a Director's Award.
On December 12th, 2013, in her annual State of the Office address in San Francisco a few weeks after Tom retired, the U.S. Attorney for the Northern District of California Melinda Haag quoted Tom's parting email message to his colleagues:
"I can look back with pride on 30 years of putting good cases together with my agents and cops, hammering the crooks who deserved it, and occasionally showing mercy to those who were decent enough people but had made stupid mistakes.
It was gratifying to work with so many fine people, as a cop and ADA in New York, as an AUSA in Las Vegas and especially here in NDCA. Hopefully I set an example for my four sons: in the end, the value of one's life work is not measured in dollars, but rather in the commitment to an honorable cause."
Tom retired from the "G" at the end of November 2013. He and his wife Elyse returned to their Las Vegas home where Tom pursues various ventures and enjoys his four sons/their families. He got into Brazilian Jiu Jitsu, the real deal.
A synopsis of Tom's notable cases, one of which included prosecuting the kidnappers of Steve Wynn's daughter in Las Vegas. Tom could have left the U.S. Attorneys to pursue a lucrative career with Mr. Wynn and his businesses; he opted to stay with DOJ instead. Several of Tom's cases have been featured on TV shows. I could continue expounding on Tom's career, but he wouldn't want that. He's always downplayed his achievements and he's never been about the accolades.
Nevertheless, I'm sharing the letter dated November 20, 2013 sent from the U.S. Department of Justice by the Director of the United States Bureau of Alcohol, Tobacco and Firearms commemorating Tom's retirement.
Tom O'Connell has few, if any, peers among Albany Law grads. If the military honors for bravery and valor were awarded for courageous prosecutions, Tom would have received many. I hope Tom's outstanding career gets the Albany Law recognition it deserves and I'm unabashedly proud to tell his story. As we count our numerous blessings, I humbly suggest including Tom O'Connell and his law enforcement career as one of them. He gave everything he had to protect the people of the United States.
"Thanks Tom for a fine job, well done." Tom's email is cym154@aol.com; I'm certain he'd enjoy hearing from you.
Best of the Christmas and holiday season to all.
Bill Pulos
wpulos@stny.rr.com
Edited August 12, 2020